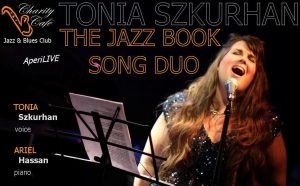 I am really excited to announce that due to the huge success of my past show in February, I will be singing once again at the legendary Charity Café here in Rome .  I really hope you will join me for what will be an incredible night of music.  Here are all the details….
When: Sunday 22nd March
Time: 7:00- 9:30pm
Cost: €12 – includes an aperitif (drink and buffet) and the concert!
Where: Charity Cafe — Via Panisperna #68, Monti (Metro: Cavour)
Let's go back to the era of jazz classics and its legendary singers. This concert showcases some of the best songs performed by Ella Fitzgerald, Nat King Cole, Louis Armstrong and Frank Sinatra. Songs that take you back in time. Songs that you just can't help humming or singing along to. But most importantly, songs that have been adored and cherished by past, current and future generations of jazz lovers.